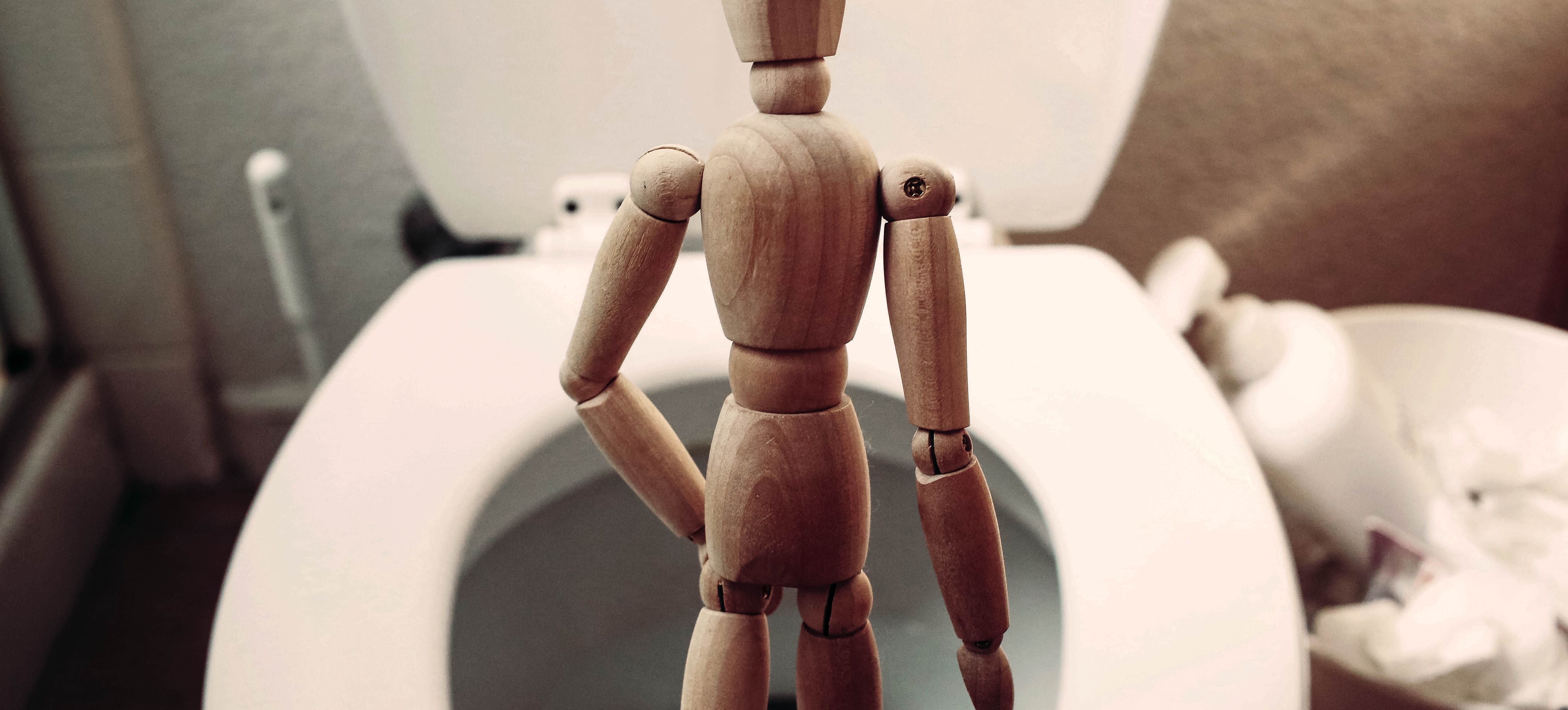 The Essential and Exquisite Pleasure of Pissing
The shortest day of the year is nearly upon us – 21st June marks the middle of Winter, and another excuse to celebrate at the Yacht Club. So far we have celebrated quite a few birthdays and a batch of Wednesdays. Wednesdays deserve a celebration because they come after Monday and Tuesday, and the kitchen is closed on those days.
For me, every day is a celebration. Since my triple-whammy of two malaria strains at once followed by prostatitis I've found life is pretty good now that I can piss more-or-less normally again! I came down with a dramatic fever and chills a few weeks after returning from Australia. Fever, chills, and a universal body-ache are distinctive signs of malaria so my fellow yachties carted me off to the local Aga Khan clinic to get tested. It turned out I had not one but two strains of malaria: falciparum and another strain they couldn't identify. It is not unheard of as having one strain weakens the body's ability to fight off others. My theory is that I picked up the unknown strain in SE Asia. I had a few strange episodes before I left that I put down to 'flu, but in retrospect were clearly relatively mild malaria. I figure that set me up for the big double whammy when I got the falciparum here in Tanzania. Falciparum can be fatal. It can get into the brain and then you've had it.
Fortunately, I am in a place where falciparum is common. That might sound strange but it means that the local medical system is finely tuned to its treatment. The doctor prescribed Lumerax, which is an Artemisinin Combination Therapy (ACT) containing Artemether and Lumefantrine. Malaria treatment is tricky. Some drugs work in some areas and not in others. The plasmodium parasite rapidly acquires immunity to drugs, so it is important to get a drug that works well in the area you are in. That said, Lumerax is a fairly standard prescription for 'uncomplicated malaria', that is, not affecting the brain.
The fever and chills were gone in three days, just as the doctor forecast, but that was just the opener. I was finding it harder and harder to piss. I knew it was prostatitis as I've had it several times before and landed in hospital every time. Finally, I couldn't piss at all. I carry a Foley catheter on the boat for just such an emergency. The doctor had also prescribed Cephalexin, an antibiotic, but it didn't seem to have much effect. I emailed David, my GP in Australia and he suggested Norfloxacin, for which I am eternally grateful. (One of Norfloxacin's long list of possible side-effects is damage to tendons! I seem to have been lucky not to experience any side effects.) Drugs in Tanzania are readily available from a pharmacia without a prescription and Mebs, a club member who owns the International Pharmacy, supplied a large packet for me.
I have now been taking the Norfloxacin for five weeks. It was a week before I could piss without a catheter. That week was the hardest because there was no indication the treatment was working and there was little any doctor or hospital could do that I wasn't already doing.
It was two more weeks before I was sure things were really improving. Trapped on the boat because I had to pee frequently and in intense pain every time I did, things slowly got better. After another week I stopped taking paracetamol and was able to walk into town. The exercise was wonderful but I was so weak it took me two days to recover from the walk!
Five weeks have now passed and I finally feel well again. My fitness is not what it was and my center of gravity has dropped to my belly and bum, but that is something I can correct with time and exercise. The main thing is that my energy has returned and the beautiful cool winter weather helps enormously.
The 'long rains' coincided with my illness and are now over. Days are sunny and clear with a strong southerly day-time breeze blowing 20 knots. The anchorage is protected but when it gets over 20 knots there's a bit of slop. At night the breeze drops to 10 kn or less and the boat is quiet. It is 28°C in the day and 23°C at night. Perfect.
But not everything is as perfect as the Tanga weather: Tanzania is in the vanguard of countries 'returning to normal after Covid-19' but there is no confidence that this is a wise move. You can enter the country today, as a tourist, if you can get here. During the height of the fever international travelers were quarantined, everyone wore a mask, washed hands before entering a building, and kept their distance. All those precautions are now gone and it is business as usual. The problem is simple – there are no figures for coronavirus infection. The early figures were unreliable and so they stopped counting at the end of April. There were 509 cases then and there are 509 cases now, which is clearly wrong. On the other hand, most of those cases were in Dar es Salam, Zanzibar and Arusha – the tourist centers. There are cases here in Tanga but I cannot see any evidence of a crisis. I walk past the Regional Hospital several times a week and there are no rows of coffins – it's the same outside the hospital now as it was when I first arrived in Tanzania. I know that's not very good evidence, and I hear things in the club from medical practitioners but even those with a sense of drama don't give me the impression that there is any sort of crisis. Without figures, who really knows?
Tourism here is opening up again and I am hoping to arrange a few safaris. Safari is a Swahili word that simply means journey. It has become synonymous with mzungu (whites) in Land Cruisers chasing wildebeest, elephants and lions. I am hoping to avoid the prototype and am exploring other possibilities for getting up-close and personal with Africa, while keeping the risk of Covid-19 to a minimum.
But the dilemma is how to combine some tourist travel with the need to see a urologist for some surgical plumbing work. The choices I see are:
Visit a urologist in Dar es Salam, but I'm reluctant to have surgery there.
If I had my way I would sail to South Africa for a urologist, but South Africa looks as if their doors will remain closed until next year.
Another possibility is to sail north thru the Suez Canal and into the Med. Several countries there are accepting yachts, including Italy. But that's a hard journey with some risks attached.

I could retrace my route to Thailand, who are accepting yachts. This would make it easy to get to Malaysia when they open up, and Penang is famous for its medical tourism industry and the high quality of service. But I am reluctant to retrace my steps and who knows when Malaysia will reopen.

I have since heard that Thailand is NOT yet open to yachts. Thanks Ben.
I could head back to Australia. That's a long and difficult trip and it would be hard to leave Oz again, both for practical and emotional reasons.
Right now, flying is out of the question but if flights restart then other options will present themselves. So, for now it's watch and wait.
The yachties here in Tanga have been massively supportive. They have taken me to the clinic, shopped for me, advised me, listened to me, and never hestitated to help. I needed them and they were there. I am very, very grateful, especially to Karina and Gerhard on Cameron, and Beattie and Ken on Petra.
Life is good so long as you can still piss!
---
12 Comments
Hi Dave
As usual, a great read. Looks like you've been through some real medical dramas, described in frank detail.
These are extraordinary and uncertain times. Whatever you do next, wherever you set your course, please consider your health and safety as a priority.
With everything you're going through, what a great adventure!
Cheers

Dave
It has been a pleasure.
What other man can take credit for changing our usual sun downer "cheers!", to "Life is good! We can piss!"
Stay safe and enjoy Tanzania!
Ken and Beatie
SV Petra

COME HOME

Hi Dave
I am sorry to hear of your health issues , I can sympathise with you after having had a prostatectomy. Its no fun having problems in that area of your anatomy. At least you seem to have come through the worst of it.
Your adventures are always amazing, take care and do whatever you can to keep your health, without that youve got nothing.

Lots of love
Peter your brother

Sorry to hear of your troubles Dave. I had the pissing problem 10 years ago in Tasmania and required catheterisation for about 2 weeks...interesting times!
A friend just died of Covid in South Africa, his wife survived without hospitilization. "Patrick Childress Sailing" on Youtube, episode #66 tells the story.
Glad you are now in recovery and get fit mode.
Stay safe!

Dave

Your slog is a testament to your ability to survive and having read this edition, I'm fairly sure that you are indestructible!

Sounds like the place you are in now has pretty much everything you need to survive until CV 19 is less of a threat.

Continue to stay healthy and enjoy the exotic location!

Cheers

Tim


Dave MAAAAATE!!
I so dearly look forward to reading your blog, they always enlighten! I am so happy your health is on the mend & I wish you nothing but safe travels and improved health. "Life is good, so long as you can piss" - truer words were never spoken my friend!
Yes, strange times indeed matey... Life in Aus is fairly normal, at least in our little community in Qld, but we do try to stay away from crowds. I miss Tanzania greatly and I am eager to return as soon as possible. I did meet some glorious human beings when we were there & they are in Moshi and Arusha, please just reach out if you'd like an introduction?
Kudos to you brother.
Kev

HI Dave, good to hear your health is improving. With all the talk of second waves and things getting worse in Africa I guess it will be a while before you can move on from Tanzania. I can recommend prostatectomy as a great way of relieving pressure on the bladder - a few disadvantages go with that however!
I'm off for another virus test this morning, having developed a mild sore throat overnight. Expect it's just another mild sore throat that I get fairly often, but with the ramp up in cases in Vic I need to check I'm ok before I mix with anyone.
Hope you work out a way forward soon. Look forward to the next blog.
Cheers.
Don

Hi Dave. It may be a great time to get up close with the animals considering so few tourists are around- a rare opportunity. I travelled by dugout canoe having hired a local guide from a small village when I was in Botswana - no guns no 4WD's. I get what you say about coming home interrupting your flow- all the attachments pull you back away from your boat. I only met you briefly but your response to hard times is nothing less than inspirational. Keep finding your inner strength and energy . You have found yourself surrounded by love, care and concern - the best of human nature lights up your life now.

Hi Dave. Sorry to hear you've met with a more than a few health issues but I bet you feel loved and cared for within your sailing community and by the locals too- sometimes we only get to experience this kind of warmth in the toughest of times. I really hope you jump at the chance to get up close to the wildlife while there's so few tourists- I travelled by dugout canoe in Botswana- hired a guide from a village of thatched roof round huts having landed on a small airstrip in the bush on a tiny plane- sound appealing? My retire and travel plans are obviously on hold. It is an inspiration to read your blog and get to know a person whose adventurous shines even through setbacks. I get what you mean by losing the flow when coming back to Australia- all the attachments pull you away from your boat. some big decisions ahead for you- put your plumbing first!

I just wanted to say- come home or to a decent hospital somewhere - put your plumbing first - I will help you fight the urge to stay put- I know exactly what you mean about the dangers of returning to Australia- all the old attachments pull you away from Anjea and threaten to curtail your adventures. I hope you get up close with the animals- who gets to go on safari with no tourists around- incredible luck in a way amongst all the health issues- I bet the animals are loving the serenity without gun toting guides and 4wd's full of tourists interrupting their lives. I landed on a tiny dirt airstrip in a light aircraft in remote Botswana, hired a guide from thatched roof round hut village and travelled on the Okavango Delta by dugout canoe- solo. That may appeal- but a local trip sounds great too. You seem to be surrounded by people who love and care about you- it often takes a personal crisis to see the best of human nature and you are experiencing that.

sorry about repeat posts- I got error message first 2 times so re- wrote but now they are showing as added- oops!